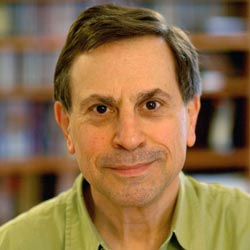 Edward Gray
Producer/Director
Edward Gray is a three-time Emmy Award winner and a two-time winner of the Writers Guild of America Award. Ed collaborated with Michael Schwarz and Kikim Media on both of the PBS documentaries Kikim made based on books by Michael Pollan. Ed worked as a producer and writer on In Defense of Food and as a co-producer and co-director on The Botany of Desire. Ed also collaborated with Schwarz on Hunting the Hidden Dimension for NOVA and on Kikim's series of science documentaries for Nobel Media.
Ed has produced, directed or written more than two dozen documentaries for national TV broadcast. For PBS they include: Security vs. Liberty; Alaska, The World and Wally Hickel; Through Many Lives: The Aging Brain; and The Orphan Trains, Mr. Sears' Catalogue and The World That Moses Built for the American Experience series.
For ABC News, Ed was senior producer and co-writer of Peter Jennings Reporting: The Kennedy Assassination–Beyond Conspiracy and Dangerous World: The Kennedy Years. He spent three years as a staff producer and writer in the TV production unit of The New York Times where he made films with the Pulitzer Prize-winning journalists Thomas Friedman and Tim Weiner. Ed lives in New York City.