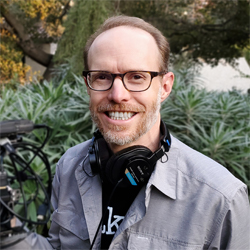 Jim McSilver is a San Francisco Bay Area–based editor, director and producer of documentaries and scripted films. His work has appeared on PBS, CNBC, AJ+, The History Channel, The Smithsonian Channel, and at festivals around the world.
He recently edited seven short documentaries for Kikim Media's Our Beautiful Planet series about cutting-edge climate scientists. His feature-length documentary editing work includes Waging Change, about sub-minimum-wage tipped workers, for Ginzberg Productions, and Manifest Destiny, an analysis of 20th-century U.S. foreign policy, for Lucasfilm, both of which were broadcast internationally and on PBS.
He has also cut the feature docs Blau Jeans, Good Works, and The Split Horn, as well as numerous short films. He is the creator of the Oakland Originals theatrical documentary series and has produced and directed videos for USA Hockey, USA Basketball, San Francisco Public Works, Intel, Oracle and many others.