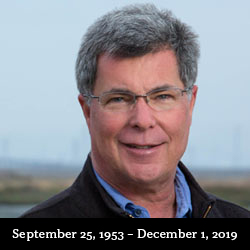 Michael Schwarz
President/Director/Producer
Michael was born in Woodmere, New York in 1953 to his loving parents Bobbie and Stewart
Schwarz. An avid skier and swimmer, Michael was constantly active pursuing various sports
and adventures. From a young age, Michael displayed an ingrained sense of curiosity about
the world and compassion for the people living in it that would propel him into his career as a documentarian.
After graduating from Yale, Michael began his documentary career in London at Granada
Television's World in Action. While there, he received his first Peabody Award for "The Red
Army," a compelling portrait of the Soviet military. In 1984, he co-produced the Emmy Award-winning Abortion Clinic for PBS' Frontline. A Fulbright fellowship in Malaysia followed the next year, during which Michael taught documentary techniques to aspiring Asian filmmakers. In 1988, Michael moved to San Francisco and joined KQED as director of news and current affairs, where he oversaw numerous award-winning programs.
Michael triumphed in his career, but in his eyes his greatest achievement was meeting and
marrying Kiki, the love of his life. Kiki, a power-house young attorney, knew Michael was the man she was going to marry the moment their eyes met across the bar. She immediately fled, but fate had them run into each other days later at a restaurant, and their life-defining partnership began. Nine months later, on their first Valentine date, Michael made what he called "the best decision of [his] life" and asked Kiki to marry him.
Their marriage was the story of fairytales that birthed two wonderful daughters, Ari and Misha. Michael was an intensely devoted father to his two daughters; when it came to them, there was no subject, question, or doubt that was too small for his attention. Michael encouraged his daughters to be both curious and compassionate. Ari and Misha grew up in the Menlo Park public school system, but Michael and Kiki believed the best way for them to learn was through travel. Michael took each of his daughters on documentary shoots around the world, teaching them first-hand about cultures and progressive values. He gave them the world.
Committed to the idea that "a true story, honestly told, can change lives", in 1996 Michael and Kiki birthed their third "child": their media company, Kikim Media. Among the many projects Michael and Kiki ushered into existence were films featuring the work of writer Michael Pollan (The Botany of Desire and In Defense of Food), two NOVA documentaries including the recent film on driverless cars, Look Who's Driving, a PBS Frontline documentary on Parkinson's disease, a series of 27 short documentaries profiling social entrepreneurs for the Skoll Foundation, and a recent series on the history of Silicon Valley for the Discovery Channel. Michael and Kiki's creative partnership was distinguished by passion, integrity, and a deep commitment to principled journalism. Those values are epitomized by their most recent project, The Ornament of the World, which aired nationally on PBS on December 17th, just two weeks after Michael's passing.
Though tenacious and unsparing in any inquiry, Michael was known for a personal ease, a
wry sense of humor, and a gentleness that, in combination, were irresistible. He was fiercely
intelligent, intensely loyal, and relentless in his quest to make life better for everyone he knew. Michael will continue to be loved and missed by his wife and partner of 30 years Kiki, his 28-year-old daughter Ari and 26-year-old daughter Misha, his mother Bobbie Schwarz, his sister Debbie Funderburk, numerous loving extended family members (including father-in-law Narinder Kapany, brother-in-law Raj Kapany, and nieces and nephews Rusty Funderburk, Corey Funderburk, Danny Funderburk, Tara Kapany and Nikki Kapany) and a legion of admiring friends and colleagues around the globe.
In memory of Michael we ask that you consider supporting Science Bytes, a science education film project he passionately wanted to bring to fruition. Please visit www.catticus.org/science-bytes to make a donation.