The coastal mountains of California are home to one of the state's most distinctive biomes. Known as 'chaparral,' it's characterized by vast stretches of shrubs and small trees as well as dozens of different kinds of evergreens. Chaparral provides a unique habitat for a wealth of different flora and fauna, but it is increasingly threatened by an unprecedented surge of wildfires in California. Ecologist Hugh Safford is studying chaparral ecosystems and how they respond the growing threat of wildfires.
Film Resources: Lesson Plan and Community Outreach Guide
Our partners, The Climate Initiative and the National Science Teaching Association, have created outstanding resources to accompany each of our films. Click on the buttons below to access the lesson plan and community outreach guide for Fire on the Mountain. The classroom-ready lesson plan developed by the National Science Teaching Association highlights the science and engineering practices scientists use to explain the phenomenon of climate change. The Climate Initiative's community outreach guide offers talking points and prompts to help foster viewer conversations about the film.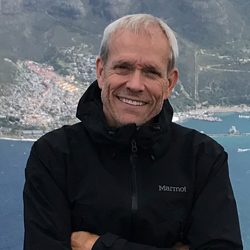 Hugh Safford, Ph.D.
Vibrant Planet Chief Scientist and Affiliate Faculty at UC Davis
Dr. Hugh Safford is Chief Scientist for Vibrant Planet, an environmental public benefits corporation, and a member of the research faculty in the Department of Environmental Science and Policy at the University of California-Davis. Before joining Vibrant Planet, Safford was Regional Ecologist for the USDA-Forest Service's Region 5 (California, Hawaii, Pacific territories) for more than two decades; he retired at the end of 2021. Vibrant Planet works at the interface between resource management, science, and technology, and applies Silicon Valley computer engineering and data management to complex environmental problems like forest resilience and wildfire mitigation in the western US and carbon sequestration, offsets, and REDD applications in the tropics. The Safford Lab at UC-Davis is focused on applied ecological support to resource and fire management in California and worldwide. Safford is director of the Sierra Nevada section of the California Fire Science Consortium, and he is PI of the California Prescribed Fire Monitoring Program (a partnership with CALFIRE), as well as the multipartner Southern California Montane Forest Conservation Strategy. Safford has provided international technical assistance on fire, forest management, and climate change issues since the 1990s. Recent projects include fire hazard and risk mapping in Georgia, fire management planning in Mexico, climate change adaptation in Brazil, and forest restoration in North Africa and the Levant. Safford was a fellow with the Fulbright Global Scholars Program between 2017 and 2019, where he studied post-fire ecosystem restoration practices in the Mediterranean Basin. Safford was co-editor of the 2021 Postfire Restoration Framework for National Forests in California, which provides guidance for management decision-making in burned ecosystems under changing environmental baselines. Safford was featured in the 2020 book Trees in Trouble by Daniel Matthews, as well as in a recent episode of the UK-based Conservation Careers podcast. Safford grew up in southwestern Montana, he has lived in California since 1986 and splits his time between Davis and the Lake Tahoe Basin. In his free time, Safford plays the piano, skis, climbs mountains, and gets hit periodically by lightning.
Click here to read more about Dr. Safford's work.